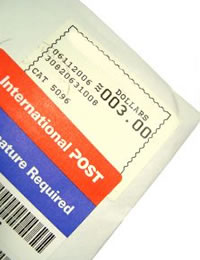 Many of the most popular websites that sell packers are located in the U.S.A. Several of them will ship packers Internationally but unless you're also in North America getting a packer shipped to you could cost quite a bit more than the packer itself. If you want to pay less shipping fees then the solution is to find a vendor located closer to where you live. Here's the beginning of a growing list of packer and STP packer vendors and manufacturers located outside of North America.
Australia
FTM Downunder - Currently the only Australian FTM retailer for transmen and those exploring the male side of the gender spectrum.
Brazil
ASHMEN - Packers, STPs, packing underwear and more.
Colombia
FTM Shop Colombia - Packers, prosthetics, boxers & jockstraps, chest binders and more.
Germany
TransToy.de - Packers, STP packers, harnesses, chest binders and sex toys.
Iran
Packers Made In Iran for Iranian FTM guys.
New Zealand
TraNZgear - A group of New Zealanders helping trans* people across the world access transitional products to aid them with their daily lives.
Spain
NEW MEN Silicone Prosthesis - Design, manufacture and sale of male prosthetics, including pack-and-play, plus harnesses and chest binders.
Singapore
Peecock Products - Established makers of packers, STP packers and 3-in-1 prosthetics for trans men.
The Netherlands
Danaë - Mr. Limpy packers, plus handmade prosthetics from Amsterdam. Ffree shipping to Benelux, Germany and England.
United Kingdom
Pure Gender – Packers, STP packers and devices.
UrinAll – STP Packers, STP devices and parts. Ships worldwide except USA and Canada.
Do you know of another website based outside North America that sells packers and STP packers? Please leave a comment below.
Last updated: 09/29/16